In most countries like the U.S., summer vacation for students falls between the months of June and August. But not the Philippines. For years, the Philippines school system has been on a different system. And with good reason.
Between the months of June and August, the Philippines typically experiences heavy rainfall and immense gusts of wind. It's typhoon season here in the Philippines and I'm in the middle of it.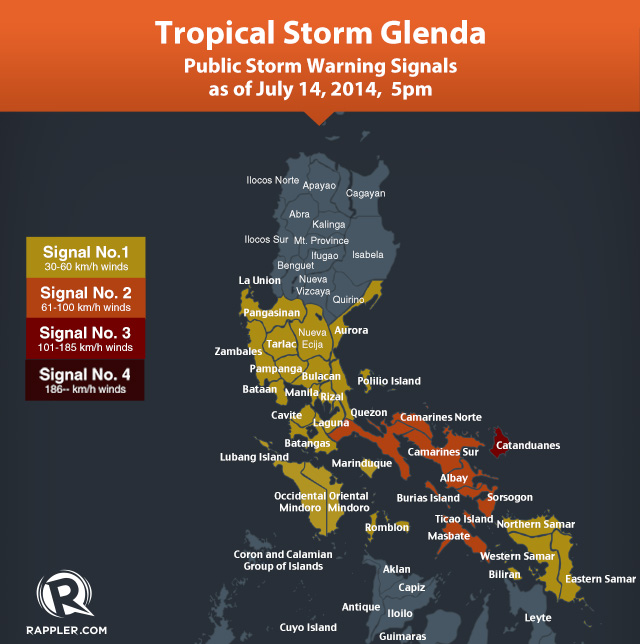 Granted, I willingly chose to come to the Philippines at a time known for monsoons. The program, the length of time, the fact I don't have classes and financials finally aligned, allowing me to pack my bags and settle in the place my parents once called home.
But even though I was fully aware of the typhoon season in the Philippines, it never really dawned on me that I could get stuck in the middle of a tropic storm here in the Philippines.
The past few days, the media in the Philippines has been covered in typhoon warnings. The past week, we've experienced some heavy rain but apparently, we're in for more than a two minute rainstorm. Typhoon Glenda is expected to hit this evening. Here, in Metro Manilla, we're not expected to get hit too hard but I'm not sure how much damage a signal one typhoon can really cause. Other parts of the Philippines are expected to experience winds of up to 185 km/h.
As a Filipino American, I've heard and seen my fair share of natural disasters occur in the Philippines. But of course, I was never there. Natural disasters in the Philippines were always something that made my heart hurt for my family's country. But they were also always something I would throw money and prayers at and then leave be.
As I sit here in my house, hoping the typhoon never passes over any of us, I realize that my previous interactions with typhoon relief were so …distant. But at the same time, I always recall feeling a certain helplessness back in the states. After every fundraising event for relief from Typhoon Yolanda, I kept coming back to the same questions and reflections: Is this a sustainable way of helping the Philippines? Another natural disaster is bound to hit…then we'll be back at fundraising. 
I'm not denying that relief efforts are necessary and helpful but I also recognize that we can't invest our time and money in these types of efforts alone if we want to really help the Philippines.
I'm happy to see that there are efforts to prepare the people of the Philippines for Typhoon season. There's a list of hashtags floating around for people in need of help. Online media sites have also been sending out updates on the typhoon as they come.
Although I'm glad to see these efforts, I'm also concerned. The poorest of the poor here may not have access to mobile devices, the internet or have knowledge of sites that provide updates. Such efforts are still really helping the higher socio-economic classes. Maybe I'm just not fully aware of the efforts here in the Philippines but I'm curious to see how the poorest of the poor here receive their information.
It's these types of reflections and experiences that re-affirm my decision to pack my bags and travel to the Philippines for a whole summer in the first place. I really hope that the dialogue that happens between the other Kaya Co. fellows and myself brings up new and innovative ways for Filipino Americans to get involved that aren't so distant and are more sustainable. We, Filipino Americans have a role to play in the bigger scheme of things. It's just a matter of actually having the discussions necessary to create real and effective action.
Here's to hoping the typhoon blows over with few to no casualties and to finding sustainable solutions that will help developing countries like the Philippines!
Today's Question: None. Just keep the Philippines in your prayers and mull over my personal reflections. I'd love to hear your thoughts on natural disaster preparation and relief efforts not just in the Philippines but all over the world.
Categories
:
Personal
,
Reflections
,
Philippines 2014
Tags:
Hashtags
,
Natural Disaster
,
Natural Disasters
,
Philippines
,
Reflections
,
Social Media
,
Sustainability
,
Typhoon Glenda
,
Typhoon Relief
,
Typhoons